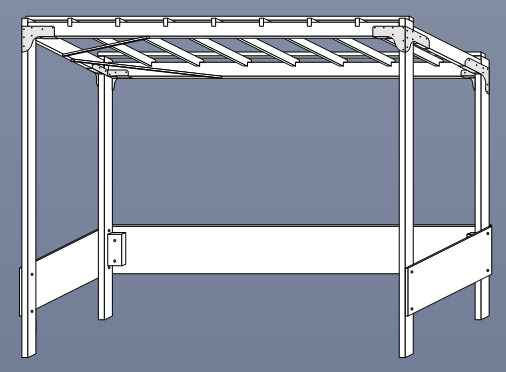 SUKKAH CONSTRUCTION
| | |
| --- | --- |
| There are four documents provided: | |
The instructions in these documents will guide you in constructing a strong, attractive 8 ft. x 8 ft. sukkah that can be easily assembled and disassembled year after year in minutes. This size nicely accommodates 7-8 people at a 6' table.
The initial fabrication of the sukkah components will take a few hours and require a modest carpentry skill and a few tools. The materials are all readily available from Home Depot, Lowes, or any lumber yard. Some places will even cut the 4' x 8' plywood sheet required for the construction at no charge. Print out the bill of materials and bring them with you to the store.
The estimated cost for the materials is $125. The plywood sheet is the most expensive single item.
The sukkah design is easily modified to construct a double sized sukkah (8' x 16') if you need to accommodate a larger crowd (See the note on Page 7 of Part 1: FABRICATION OF COMPONENTS).
I have had sukkah construction plans on the web for more than 12 years and have had over 16,000 visits to the web site. My design was featured in the English edition of The Jerusalem Post and has been used for constructing sukkot around the world.
The plans have always been free and always will be. However, if you feel an urge to give back, please make a contribution to one of these wonderful organizations or one of your own favorites:
Jewish National Fund
American Friends of Magen David Adom - ARMDI
Volunteers for Israel / Sar-El
Hadassah Hospital
Stand Up to Cancer
Friends of Animals
Enjoy the holidays!

Gary Garb
sukkah@telarian.com.